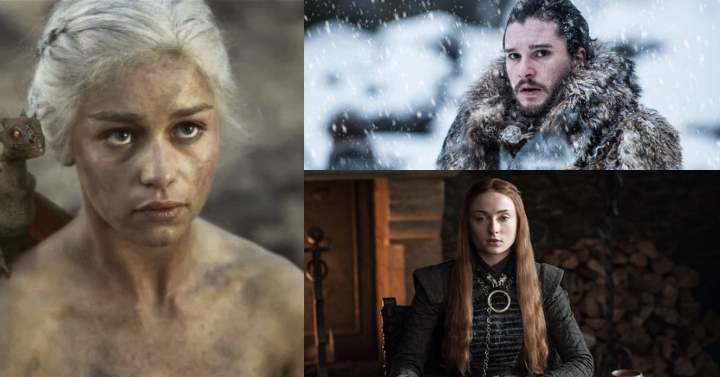 Team cohesion, give employees recognition, provide regular feedback, be trusting: Game of Thrones, the famous TV series, delivers management lessons to be applied- or not - at work. Charismatic leaders, visionary strategists and crisis management specialists... The heroes and heroines of the show displayed good management skills throughout the 8 seasons.
There are only a few lucky characters left - the last episode of the series will be released next Sunday - but the conquest of the Iron Throne is still raging. Among the favourites to win we have 3 charismatic leaders, all with their own unique style of management: Jon Snow, Sansa Stark and Daenerys. Time to bet!
Watch out for spoilers (Season 8, Episode 5) in what follows.
Jon Snow, the "protector"
Jon Snow — royal bastard, defender of the wall, miraculously risen from the dead, and king of the North — is unquestionably a natural-born leader. His kind behaviour, almost paternalistic, inspires his team with a sense of security.
Guiding others is really important to him. He expects loyalty and respects back in return. Betrayed by his brothers while he was the commander of the night guard, Jon Snow learns throughout the show to forgive but not to be moved. That's why he doesn't hesitate to show firmness when necessary.
To become a respected leader, Jon Snow opted to manage by example: on the front with his men, he stays on the battlefield until the very end to provide advice and support.
Jon Snow also learns the art of delegation: to sustain his relationships with partners - the Free Folk, the Khaleesi - he asks his sister, Sansa Stark, to lead the North.
Sansa Stark, the "strategist"
When the show started, Sansa may have seemed naive, but her thirst for power was visible even then. Despite her young age, she already aspired to marry the bloodthirsty and future King Joffrey. Trained by Cersei Lannister to deal with the intricacies of power, all whilst listening to Littlefinger's life lessons, Sansa quickly learns to thoughtfully place her pawns.
After being manipulated and humiliated, Sansa develops new personality traits and shows no mercy for her enemies. However, she is compassionate and feels concerned about the well-being of her people. Although she wants to take revenge on Cersei, she is the only one to ask for respite for the troops before leaving for King's Landing. She isn't blinded by her desire for revenge. Sansa, therefore, shows a very good emotional intelligence, keeping a cool head in all circumstances.
Identifying both the weaknesses of her enemies and of her allies, Sansa is a visionary leader, with a strong sense of strategy. She knows how to adapt and take advantage of situations. Her consulting skills, especially with Jon, make Sansa a sensible and fair manager.
Daenerys, the "unifier"
Princess sentenced to exile, expiating family sins that don't belong to her, Daenerys has gathered a team of wise advisers and fierce warriors around her. Mother of 3 dragons, she doesn't doubt her legitimacy to lead. She has a purpose: freeing people from slavery. Visionary, determined and pragmatic, the Khaleesi offers us a great management lesson to unite her team.
By surrounding herself with wise counsellors, she benefits from the expertise of trusted people to make decisions. She believes that it is by encouraging confidence and promoting team spirit and performance in individuals.
Another decisive point: Daenerys leads the way, carrying and sharing a vision, in order to act for all people, and thus earn their loyalty.
Yet, in the last episode, the Queen of Dragons forgets an important fact: keeping a cool head and staying humble. It seems that, over the seasons, Daenerys can no longer recognize her errors and correct her mistakes when under pressure.
Her focus, previously centred on the most deprived and her people more generally, is now turning to power. By becoming the "Queen of Ashes", Daenerys takes an unprecedented step in her career towards autocratic and unilateral management. Hence the importance of emotional intelligence ...
Common qualities emerge from these three undisputed leaders: kindness, loyalty, team cohesion, empathy, emotional intelligence ... Many of these pieces of advice should be followed by the management team at work on a daily basis. Just like Jon, Daenerys and Sansa, are you a protective manager, a unifying one or a strategist one? Would you have the flame and passion to conquer the Iron Throne?