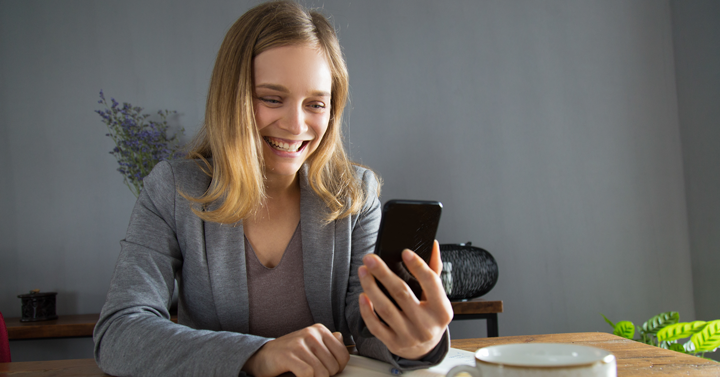 Pre-recorded video interviews can sometimes be a little intimidating, but the benefits of this solution also make it popular with candidates! With a little preparation and by following these 5 handy tips, you'll be able to stand out from the other candidates and allow your personality to shine through.
What exactly is a pre-recorded video interview? The recruiter prepares several questions which you must answer by video, in writing or by means of a sound recording within a set period of time. 
Choose a suitable location
Position yourself in a neutral, calm location, which best resembles the professional atmosphere of the interview. Use your computer or your tablet, placing it on a desk or table, paying careful attention to what is in the background, which should preferably be plain and void of distraction.
In other words: don't use your telephone in selfie mode in the street! You should also avoid filming the interview in your bed, tucked under your quilt, which would not be considered very professional. To avoid any distractions during the interview, turn off your mobile phone and make sure you're not going to be disturbed by pets.
Adopt the right attitude
Just like in a face-to-face interview, your attitude and body language tell the recruiter as much about you as your words do. Pay careful attention to your look and sit up straight! You should also pay attention to the lighting in the room you're using, as it's important to ensure that the recruiter can see your face properly. Avoid backlights!
Here are a few tips, in no particular order, to help you make a good impression:
Smile! A rigid facial expression is never pleasant for the recruiter.
Don't fold your arms! This is seen as a defensive posture. Feel free to make abundant use of your hands while speaking, which immediately makes you seem livelier and more dynamic.
Avoid keeping your hands occupied with a pen or notebook.
Throw out your chest, keep your arms open, keep your feet firmly on the floor and once again... SMILE! You're on camera!
Learn as much as you can about the company beforehand 
It's vital to prepare for your interview. Learn as much as you can about the company and about the position you're applying for. This shows the recruiter that you're motivated and that you're taking this job application seriously. You can even try and find out more about the HR manager, or the recruiter, to adapt your attitude to the person in question (social networks are great for this!).
Spend some time training on our platform
To ensure that everything is in order and that your equipment is working properly, you can undertake a trial run with a question. When you do so, you'll be experiencing the same conditions as in the pre-recorded video interview.
We recommend candidates make use of this option, as it'll help familiarise yourself with the system and to master the process to your advantage.
Keep an eye on the time 
The recruiter has the possibility to specify a set time for each question. The stopwatch goes from 30 seconds to 2 minutes. Check how much time you have before you start recording your answer.
In as far as possible, you should opt for short, concise and impactful phrases. Don't talk too quickly as this may make it harder to understand.
.