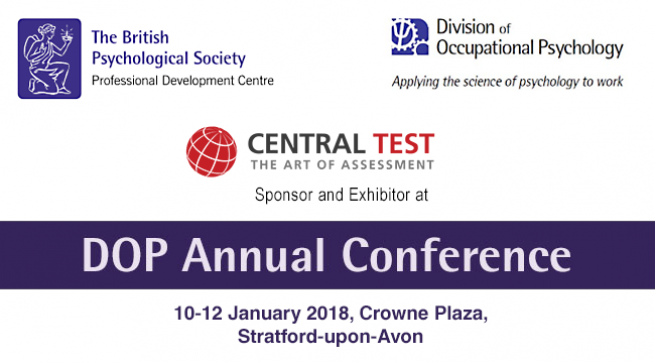 Central Test is pleased to announce its participation as a sponsor and exhibitor at The Division of Occupational Psychology Annual Conference, from 10-12 January 2018 at the Crowne Plaza in Stratford-upon-Avon.
The Division of Occupational Psychology Annual Conference is the largest annual gathering of occupational psychologists in the UK and provides a major showcase for practitioners and academics to present their latest ideas.
The DOP Conference 2018 will showcase under the theme 'Evolution +/or Revolution' the ongoing excellent work in psychological research and practice, and provide an opportunity for discussion, debate and challenge on how we can best utilise our skills to continue to make a meaningful impact in the world of work.
In view of this theme, Central Test will be displaying their latest research on Counterproductive Work Behaviour – CWB with the new assessment ETIX.
ETIX is designed to evaluate the likelihood of individuals engaging in counterproductive work behaviour. It covers six behaviours relevant to today's work environment, including discrimination, harassment, and lying by distinguishing between a person's attitudes towards themselves and other people.
Central Test will also be showcasing its large range of psychometric assessments and the TALENT MAP; an innovative tool that enables a multi-criteria approach to predictive talent analysis.
We invite you to meet us at Stand 11. Our consultant psychologists will be happy to tell you more about our comprehensive assessment solutions. 

Book a meeting with our consultants.
Follow us on Twitter for the latest updates.