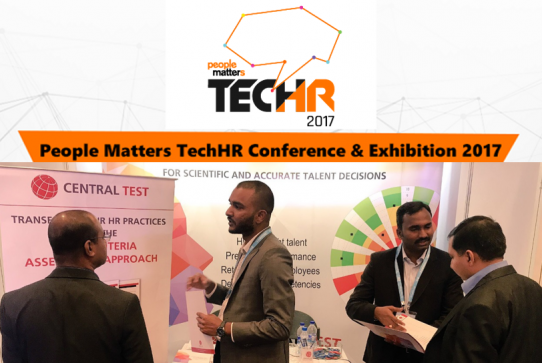 Central Test successfully exhibited it's latest product release: the TALENT MAP on 3rd and 4th August at the People Matters TechHR Conference & Exhibition 2017 in Gurgaon, India.
With the participation of over 1500 delegates, 97 partners and 102 esteemed speakers; the TechHR 2017 lived up to its status of the largest HR technology conference in Asia, successfully bringing together leaders, experts and HR technology providers from across the globe.
We had a wonderful time with a great response at the event, as exhibitors we interacted closely with hundreds of HR professionals and company heads. The two days at TechHR gave us the chance to know more from companies about their changing assessment needs and HR challenges.
The exclusive showcase at TechHR of our latest tool: the Talent Map was received with great curiosity and interest; the only tool in the Indian market that combines the results of several assessments into a single snapshot with multi-criteria approach of psychometric assessments.
We would like to congratulate and thank People Matters for the event's great success. And also thank everyone who visited our stand and showed interest in our products and services, we look forward to our follow up interactions.
The successful participation at TechHR 2017, brings Central Test even closer to becoming the most preferred and recognised assessment solution provider in the Indian market.