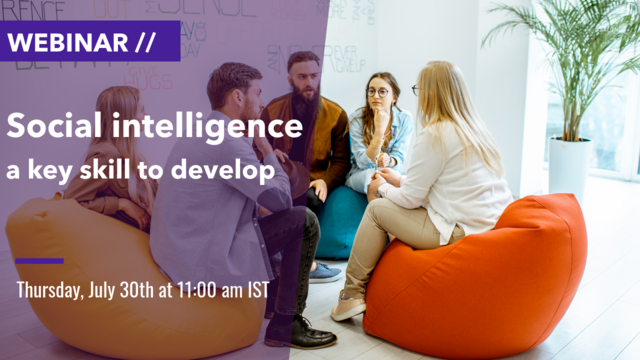 Social intelligence refers to the ability to be present and interact meaningfully, showing consideration and attuning to how certain factors may impact those around you. The Social Intelligence combines key skills such as empathy, organisational awareness, and influence. 
But how can we effectively develop our social intelligence and create stronger relationships in the workplace? How can we use this to become more authentic leaders?
During our webinar on Thursday, July 30th, at  3:00 pm IST, we will address the following:
What is social intelligence and why do we need it?

Emotional intelligence vs social intelligence: what's the difference?

The key factors of social intelligence

Our practical advice and tips for developing your social intelligence
Speakers:
Debjani Chatterjee, Senior Psychologist at Central Test, India
Victoria Gosling, Science & Innovation Assistant at Central Test, London
 
Watch the replay

You can also download our free eBook about Social Intelligence!