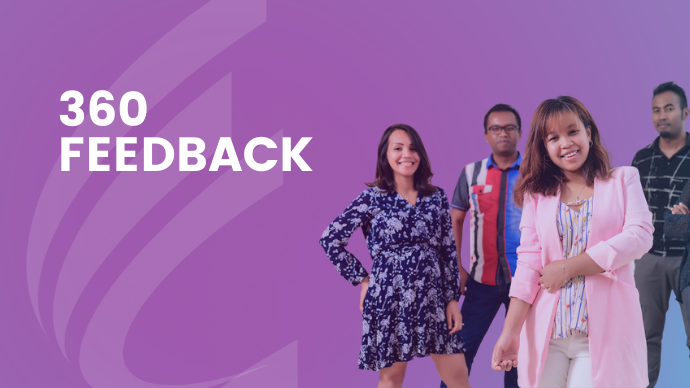 The 360 ​​Feedback is an assessment for professional development and enhancement. It focuses on measuring the skillset of participants in order to paint a complete picture of their strengths and their areas for improvement. The ultimate goal is to make people aware of their potential and to encourage them to fully harness it.
The 360 ​​Feedback assessment system differs from traditional methods because it uses a multisource evaluation. It combines participants' self-evaluations with that of their professional network. This could be their manager, their subordinates, their colleagues, their clients, their former employees, etc. Each respondent indicates the extent to which the participant has mastery of various skills. différentes compétences.
How does 360 Feedback work?
Send an invitation to take the assessment to the employees and associated set of reviewers.
Receive the analysis of the evaluation results directly on your platform.
Invite as many reviewers as you require to share their feedback.
In what context should you use 360 ​​Feedback?
Before a professional evaluation in order to define a tailor-made progress plan for each employee assessed.
During personal development workshops for your employees to learn more about themselves.
In the event of internal mobility in order to orient the assessed person as consistently as possible.
As part of an internal audit to improve performance (improve processes, strengths and weaknesses in departments).
SPECIAL OFFER
Until June 30, 2021, for all participants who have already taken the PROFESSIONAL PROFILE 2 or EMOTION 2 tests, the invitation to a 360 Feedback assessment is free of charge.