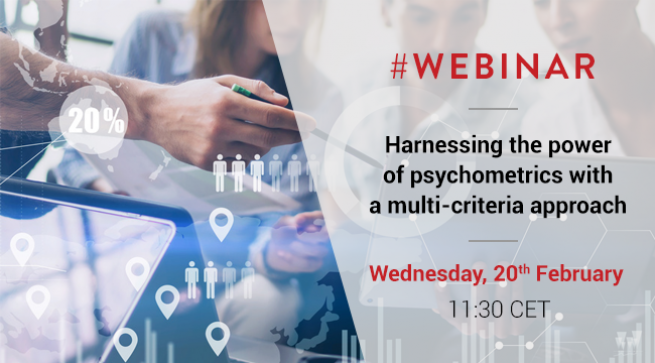 Despite the wealth of data we collect today, does it really improve the quality of our decisions? Good decision-making, especially in HR processes, is based on multiple sources of accurate, objective, and relevant information.
The field of psychometrics has been curating data for decades, allowing us to uncover the hidden aspects of human potential.
We invite you to join our webinar on Wednesday, February 20th at 11:30 (CET) where we will reveal the myriad of benefits that using a multi-criteria approach in the assessment will bring to HR, from mitigating cognitive bias to increase the reliability of talent decision-making.
You will learn:
 How to uncover the hidden aspects of human potential using psychometric data
 How to get a finer and predictive analysis of people's potential using the multi-criteria approach
 How to implement this approach into your people assessment practice.
Date: Wednesday, February 20th at 11:30 (CET) 
Speaker: LAURA BRADY, Consultant Psychologist, MBPsS @Central Test
This webinar is over.
Watch the replay