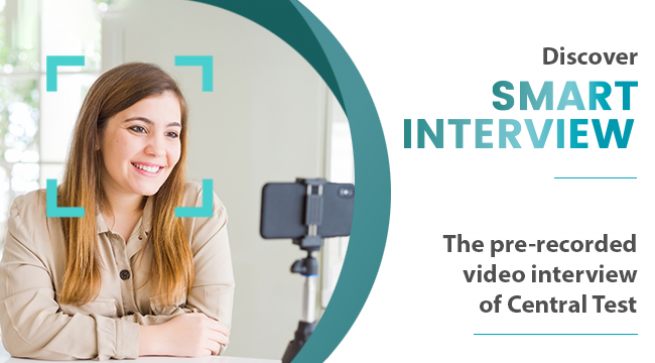 Smart Interview the new pre-recorded video interview solution enhances the Central Test assessment offer.
This new solution is aimed at helping HR professionals and businesses with interview scheduling, pre-selection, and assessment of candidates. The benefits of pre-recorded video interview are many: time-saving and higher efficiency, reduced costs, improved candidate experience, integrated employer branding.
How does SMART INTERVIEW work?
In the Central Test platform, recruiters can create and customize interviews in the format of their choice: video, audio or text. They can also create an introductory video to introduce the job position, the team or their organizational culture.
Then participants are then invited to take the interview on a computer or mobile device, at their convenient time and place. In the end, recruiters and other evaluators, can review the recorded interviews and decide on the next step.
 Multiplied uses due to the combination of assessments
Smart Interview brings many benefits in the hiring process allowing recruiters to replace the tedious and time-consuming interview scheduling and telephonic pre-selection, thus gaining flexibility and efficiency.
As for the candidates, they can exhibit themselves beyond their CV and showcase an all-round personality.
Companies can boost the employer brand, thanks to customizable and intuitive recruitment Smart Interview process!
In addition, users of the Central Test platform can go even further by combining psychometric tests and video interview for a better assessment of talent and potentials.
Smart Interview can be also used for internal mobility processes, performance interviews for international teams or team audits. They are also a very effective way to train students for future job interviews or train salespeople in sales techniques, etc.
To learn more about this new solution and its benefits, attend our webinar on Wednesday, 9 October 2019 at 11:30 CEST | Time converter