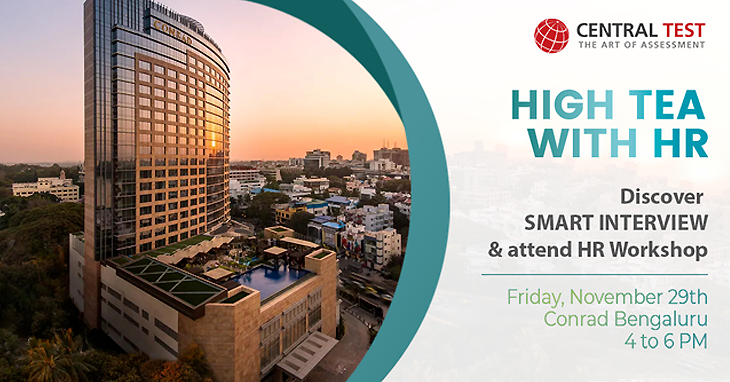 Join us over "High Tea" for an exclusive presentation and live demo of our latest assessment tool SMART INTERVIEW, followed by an HR Workshop. At Conrad Bengaluru on Friday, 29th November, from 4 to 6 PM. It will be a select gathering of leading HR professionals, our clients, and business partners. 
SMART INTERVIEW is a pre-recorded video interview solution, that will transform your hiring process. Smart Interview will allow recruiters to create highly customized interview sessions that candidates and assessors can access anytime, anywhere.
 
THE AGENDA
Presentation & Demo: SMART INTERVIEW ~ 45 min
Discover SMART INTERVIEW and it's many benefits (save hiring time & cost, increase efficiency, showcase employer brand…and much more) and view a live demo.
 
High Tea ~ 30 min
Enjoy a sumptuous high tea while networking with the delegates.
 
HR Workshop: Individual Development Plans ~ 45 min
Learn best practices to design and implement successful individual development plans.
 
THE SPEAKERS
Christine Confais-Morieux 
International Sales Director at Central Test, Paris
 
Debjani Chatterjee
Senior Psychologist & Consultant at Central Test, Bengaluru

SEND RSVP TO CUSTOMER@CENTRALTEST.COM

Limited seats! Please email us with professional email id, your name, contact number, job role and company name. 
For more info. or assistance call us at  +91 4261 3202