A flexible and intuitive solution to effectively manage all of your evaluation projects
Predictive Matching
An advanced job, skills and corporate values matching
Video Interview
Pre-recorder video interview for faster candidate's selection
Proctoring
All your assessment projects monitored safely
Webservices
Easy integration with all your ATS / TMS software
A tailored approach to boost your employer brand and enrich candidate experience
Talent Matcher
Enhance the assessment of your candidates
Candidate volume:

add your candidates individually or import them from a file.

Pre-recorded video interview:

customize the candidate experience, enrich your recruitment process, assess candidates quickly.

Recruitment tests:

reliable pre-selection tools to facilitate your decision-making.

Predictive matching:

assessment campaigns to match profiles with the position, skills and values of your company.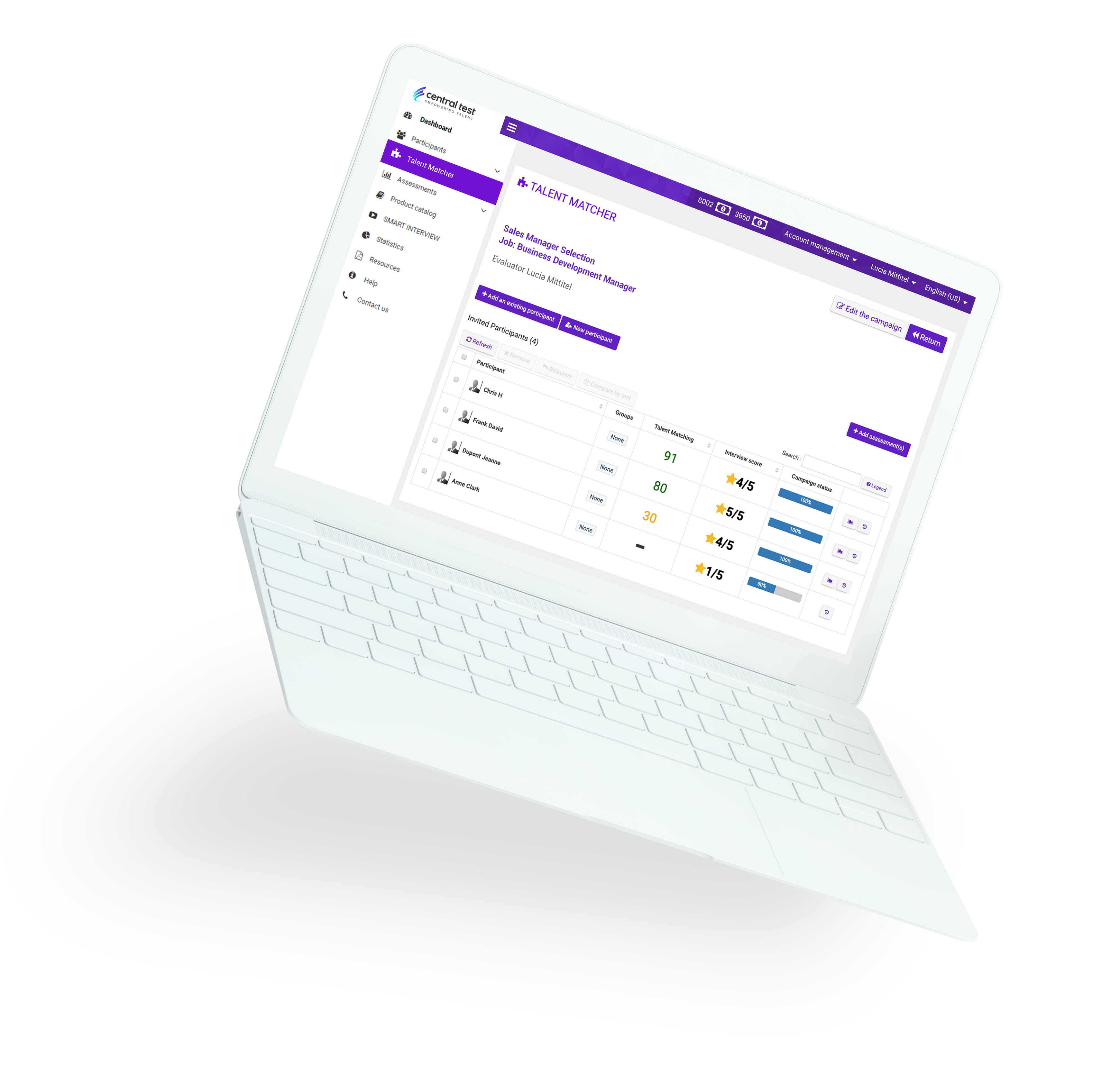 Predictive Matching
Reveal in real-time the best profiles
Customization:

Create and personalize your assessment projects according to your criteria in a few clicks.

Multi-criteria approach:

Choose from a wide variety of assessments for a complete vision of potentials.

Profile Matching with 36 skills:

Build on a skills-based approach by comparing your candidates to our standard skills referential or create your own.

Job matching with 138 jobs:

Quickly detect the suitability of profiles with a specific position via the job matching score.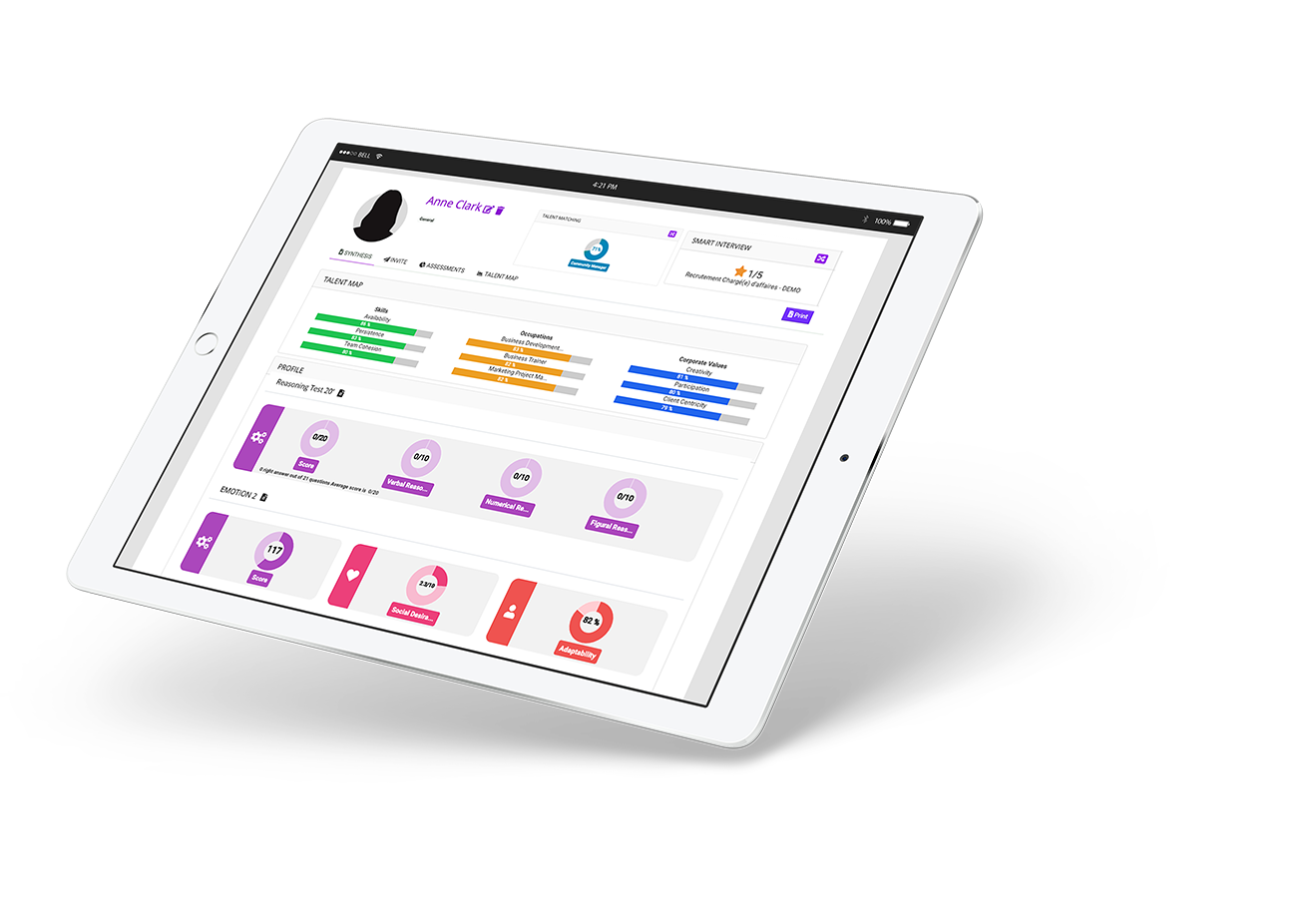 Webservices
Seamless integration with your ATS software
Simplicity:

facilitate your recruitments and optimize the management of your data.

Automation:

all your evaluation processes on the same interface.

Save time:

maximize the processing time of your data and gain performance.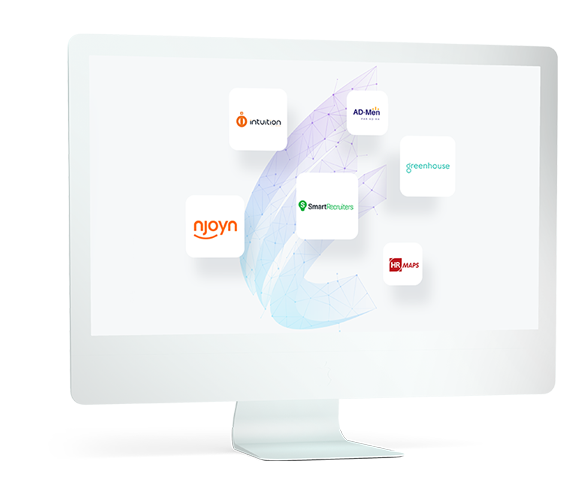 Advanced features for a seamless assessment experience
Make reliable decisions, based on objective data
Job Matching
Select the best profiles with our pre-mapped job referentials
Skills Matching
Find the best profiles compatible with your company culture and values.
Customization
Create referentials that fit your requirements. Customize tests reports.
Speed and Simplicity
Access your assessments at any time, via your computer or laptop. Online help is available online 24 hours a day.
User Experience
Use user-friendly applications that can be customized to your image brand
Multi-criteria Campaigns
Combine psychometric tests, skill assessments and video interview to make reliable decisions.